| | |
| --- | --- |
| Mayagüez is known as "La Sultana del Oeste" (the sultana of the West). Founded in 1760 by Faustino Martínez de Matos, Juan de Silva and Juan de Aponte. | |
Originally named "Our Lady of the Candelaria of Mayagüez", but dwindling tradition from the Indian name of its river, the Yagüez River (the word means "clear waters") the city was eventually named just Mayagüez. Mayagüez (pronounced Mah-yah-goo-ehz or Mah-yah-GWEHZ) is a variation on this name, which means "Land of the Clear Waters". Mayagüez is located in the west coast, north of Cabo Rojo, Hormigueros and San Germán; south of Añasco; and west of Las Marías and Maricao.
Today, Mayagüez is the fifth-largest city and is considered one of the most important cities in the island. The city itself is centered around the impressive Spanish-style Plaza Colon, a tribute to Christopher Columbus, whose stature stands in the middle of the square, surrounded by 16 bronze statues. In addition, Mayagüez has become a major college town because with the establishment of the UPRM, the Eugenio Maria de Hostos Law School and the Pontiff Catholic University of Puerto Rico. Among Mayagüez's main attractions you will find the Yagüez Theater and Mayagüez Post Office, which are considered historic landmark buildings, both located on McKinley Street.
Mayagüez is home of the only Zoo in the island, Juan A. Rivero Zoo (commonly known as Mayagüez Zoo), home of numerous birds, mammals and reptiles (including Bengal tigers, and Andean condors among others). Cages and open compounds stand in an attractively landscaped setting of small islands, a lake, tropical vegetation and children's playground. Open Wed-Sun from 8:30am to 4:00pm. (787) 834-8110.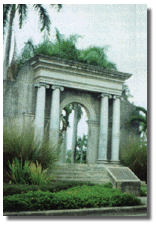 The Tropical Agricultural Research Station located at University of Puerto Rico host many species of exotic plants and trees such as the traveler's tree, shower of orchids, ceylon cinnamon and pink torch ginger. Self-guided tours are available. Open Mon-Fri 7:00am to 4:00pm. (787) 831-3435. There are many well-known "mayagüezanos", among them: educator, writer and political leader Eugenio María de Hostos, singer (Armando Hipólito) Chucho Avellanet, Juan Mari Bras, journalist Carmen Jovet, news announcer Luz Nereida Velez, late former governor Roberto Sánchez Vilella, and the late former Mayagüez Mayor, Benjamin Cole, whom served for 24 years in a row as mayor of the city.
Land Area:
197.6 sq km (76.0 sq mi)
Water Area:
196.46 sq mi
Population:
104,557
Density:
498.1 per sq km (1,295.1 per sq mi)
Housing Units:
39,364
Housing Density:
507.1
Per Capita Income:
$8,003
Source: 2000 Census
Hymn:
Mi patria es un oasis...
Coordinates:
Latitude: 18° 12' 22" N Longitude: 67° 8' 20" W
Wards:
Algarrobo, Bateyes, Guanajibo, Juan Alonso, Leguísamo, Limón, Malezas, Mayagüez, Arriba, Miradero, Montoso, Naranjales, Pueblo, Quebrada Grande, Quemado, Río Cañas Abajo, Río Cañas Arriba, Río Hondo, Rosarío, Sábalos and Sabanetas.
Driving Distance:
103.3 miles *
Driving Time:
2 hours, 21 minutes *